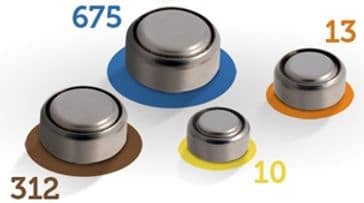 We have hearing aid batteries in stock, ready for sale to our clients. We offer sizes 10, 13, 312, and 675. Our premium batteries are extremely reliable, have anti-corrosion properties, and a long shelf life. Plus, we offer a Battery Club card for loyal shoppers.
Buy five (5) cards of batteries and receive one (1) card FREE!
Recycle!
Let's work together to protect the environment! While hearing aid batteries are necessary to improving your quality of life, we need to dispose of them responsibly. If you will bring your used batteries to us, then we will get them to the proper recycling facility here in Evansville. Our planet will thank you!
Call Hearing Healthcare Center at (812) 303-4300 for more information or to schedule an appointment.